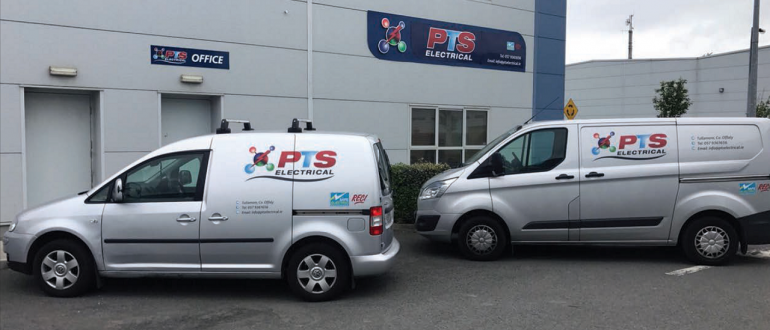 PTS Electrical – A well-established & trusted Electrical Contracting Company
---
PTS Electrical Group Limited are a leading Electrical Contracting Services Company, based in Tullamore, Co Offaly serving many clients throughout the midlands and beyond.
As a service based company, PTS Electrical have built up a business on reputation that is centered on customer care and satisfaction. It's an approach that has served them well as they consistently deliver a quality and reliable service to their valued customers. Safe Electric registered, PTS operate to the relevant national standards and technical rules when it comes to providing their wide range of services not limited to but including: Electrical Maintenance, Electrical Installations, Testing and Certification, Fault finding, Fire Alarm Systems: Installations & Servicing, Voice / Data Systems and Network Cabling, Phone Systems Emergency Lighting: Installations & Servicing and LED Lighting Upgrades.
PTS ensure that their nine employees are trained and are technically equipped to deal with any demands that are essential to completing each job well and in a time efficient manner.
They cover a 50 mile radius from their Tullamore base concentrated mainly around the midlands but they have also taken on projects and cover routine and elective maintenance in Dublin.
They have a wide range of clients in both the public and private sectors. This has been built up over many years and is as a result of consistently providing a trusted and dependable service. Many of their valued customers are long standing and know they will continue to deliver year after year.
They cover all types of industrial, commercial and domestic electrical work as well as providing a very reputable and dependable 24 hour call out service. When your power goes or something breaks down, you need to get to the bottom of it straight away.
PTS pride themselves on their ability to respond to urgent situations as they realise that every minute of downtime can have a negative impact on a business or home. Their staff of nine allows them to serve many customers simultaneously with offices in Axis Business Park open from 9am-5:30pm Monday to Friday and an out of hours call system to ensure round the clock service.
PTS Electrical strive hard to develop sound working relationships and maintain long term associations with their valued clients.
They are proud to be regarded as one of the midlands' leading and most trustworthy electrical companies and look forward to serving their customers for many years to come.
---
PTS Electrical Group Limited
Unit 15, Block C,
Axis Business Park, Tullamore,
Co Offaly
Tel: 057-9361656
Email: info@ptselectrical.ie
Website: www.ptselectrical.ie